Looking for a new position can be stressful for anyone, but knowing there are potential red flags on your resume can add extra layers of anxiety no matter how well suited you think you are for the role. Whether it's conspicuous gaps in your work history or a long list of short-lived positions causing the problem, the solution is often somewhat similar.
The answer to these two potential shortfalls is related because, at their core, both gaps in your resume and a history of short-tenured positions boil down to being a presentation problem.
Your CV or Resume is nothing more than your opening demonstration of why you are best suited for the job. It needs to be truthful, but with that in mind, it's really up to you how you present the information in a way that makes a potential employer want to meet with you. In both instances, you want to lead with your strengths and use relevant work experience and education to support them. Your resume is a brief about your professional life, not an in-depth case study. As a result, remember that brevity is essential, and strategic curation is critical. Your resume's primary function serves as a way to get you in the door for the interview.
Rethinking How You Introduce Yourself
Imagine the top third of your resume as the place to tell employers who you are before you start to list the places you've worked. This process begins with a resume summary statement that functions much like an attention-grabbing headline. Make sure to include how many years you've been in the profession, along with a quick descriptor. If you do have obvious gaps in your resume history, you don't necessarily need to address those up front. It can, however, specify that you are looking for a long-term position where you can develop your career. Establishing that you are seeking to put down roots right from the start can help counteract any impression that you're a job hopper.
Summary Statement Example:
Award-winning Marketing Professional with more than ten years of experience. Having lead several products through development to market, for both start-ups and established firms, I'm currently looking for a new challenge and a company where I can develop my career.
—
Below the summary statement, include a list of noteworthy accomplishments. Be very precise and avoid throwaway comments like "people person" or "results-oriented." Instead, use specific accomplishments like, "surpassed sales targets five years running" or "Overhauled customer database to ensure the team had relevant information at their fingertips."
Using the top portion of your resume to frame the presentation in the best possible light means that you have the chance to get the employer interested in you as a candidate and then confirm, with the relevant job experience and education, that you have what it takes to excel in the position.
—
Now that we have the first section of your CV completed, the strategy changes slightly for each situation moving forward. We'll start with some pointers for job seekers with employment gaps and follow below with some direction for those with too many positions to mention. Both sections will include some options for cleaning up your resume regardless of which situation you find yourself.
Bridging the Gap
Keep moving
It's inevitable for most professionals that there is going to be an employment gap at some point in your career. Be it a short transition period, or a downturn in the economy that leaves you struggling more than usual to get yourself into a new position. The key to managing this is to make sure you don't ever come across as a "closed shop." Even when you're not working it's important that you're still plugged into your profession or working life in some meaningful way. Maintaining even a low level of momentum will assist you in opening new doors and finding that next big break. Keep scheduling coffee meetings with your contacts, and be sure to turn up at industry events.
Removing the months
When listing your past work experience, there is absolutely no reason you have to include the months of the years that you worked at each job. This is especially true the further you go back in your job history. When it comes to dealing with historical employment gaps of a few months this small modification can make all the difference. E.g. if your employment was from March 2014 until February 2017, but then not again until August 2017, by listing your the positions as 2014 – 2017 and 2017 – Present, you can smooth over that six-month gap in employment, no questions asked.
Rethinking your past
There are numerous reasons for having a gap in your employment history, but the material intent is that you've continued to grow as a professional during those gaps. If you're able to keep doing small projects related to your field, these can fit nicely on your resume as a single item called "consulting." One of the best ways to use this is when the gap is currently happening. For example, imagine you were laid off in August of 2017 and since then have stayed active earning a living. Though during this time you were not employed officially with any given company, you can treat this as if you were operating a consulting business of your own. Give yourself an appropriate, non-grandiose title and highlight some of the more exciting projects in the same way you would list accomplishments at any of your past jobs.
Contributing to your community
If you have a gap in employment, beyond taking on consulting projects, this could be the perfect occasion to volunteer with a local charity or non-profit. Not only will you feel good about helping out, but you may also find new ways to use your skills and opportunities to develop your abilities in a different environment. When it comes to listing it on your resume, treat it like you would any paid position with the organization name and the selected achievements noted. If you can find a way to lend your expert skills to a charity that's always a great way to go, but don't be afraid to help out with something unrelated to your profession if the opening presents itself. You may have a chance to learn something new and develop as a professional. Further to this, it is important to remember that Canadian charities are mandated to have a volunteer board of directors. Sitting on a charitable Board is a great piece to have on your resume, whether you have a gap to fill or not.
Back to school
Taking advantage of professional development at the office or enrolling yourself in a certificate program through a University or College can only help you as you build your career. However, when you find yourself with a gap in your employment, adding a course has an additional benefit, it fills the space. Not only does it give you something to add to your resume and provides a topic of discussion during interviews, but it also keeps you in contact with other professionals in your field. Another option is to enroll in targeted online learning through programs like LinkedIn Learning. It will provide you with an opportunity to sharpen your skills and engage with peers online while keeping your digital profile active and exciting for potential employers.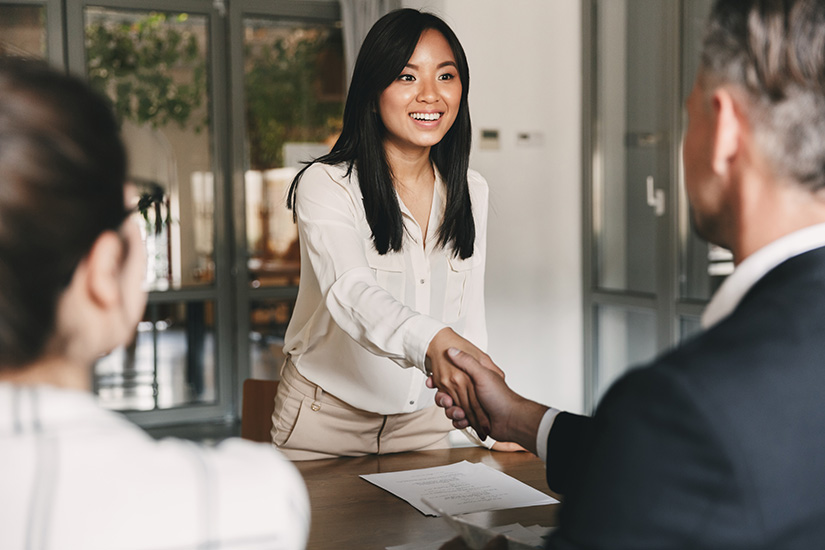 A New Home, Not a Stepping Stone
Merging positions
When it comes to having so many recent positions packed on the page, it's important to make potential employers think they're not just another short-term stop for you. One strategy is to think about combining a series of jobs. Have you had several similar positions at different companies back to back? By listing those positions as you would freelance opportunities, under one item, you can expand the timeline and come across as more of a consultant-for-hire than a job hopper.
Leaving jobs off the list
Another useful function of not including the months when listing the time spent at a position is that you could feasibly omit one or several jobs if, for instance, your employment didn't last more than a couple months. For example, if you spent 2015-2016 in one role, but then left in early 2016 for a position that only lasted for six months, before joining another company the same year. If you eliminate the six-month position, you will give the appearance of consistent longer-term employment.
Highlight big accomplishments
One of the significant concerns employers have when looking at someone with multiple job changes in a short time frame is that they will leave before finishing what they started. If, for example, you were brought on to complete a particular project, which you did before moving on, make sure you highlight this fact. Giving the impression you are a hired gun who is looking for a more permanent home is an excellent way to help reassure your would-be employer. You finish what you start.
—
Giving it More Serious Consideration
No matter whether you have gaps on your resume or too many positions to list, both situations suggest it may be time to do a little self-reflection and determine just where you want to direct your career. Some great self-assessment tools can provide you with a bit of food for thought as you think about which jobs to apply for, which courses to take, and generally where you want to end up now, and in five years. A great free resource is the 16 Personalities Assessment. It's a questionnaire built on the Myer-Briggs tool and a great place to start your self-exploration.
Another great option is to sit down with a local professional recruiter. At LRO Staffing, our highly experienced and tenured team leverage their unique talents to provide candidates with the guidance, support, and highest calibre of service they need in order to find the right fit. We've had the privilege of assisting thousands of professionals as they plot out their next steps and we know the importance of building a relationship with our candidates. Relationships matter at LRO Staffing and it's the reason that our candidates and clients continue to include us in their careers and refer others without hesitation.