Providing High-Quality Staffing Services Since 2005
We've been in business for over fifteen years, and during that time we've been working to provide the most incredible staffing service for our clients and candidates in the Ottawa region. As we've grown and added more services, divisions and locations we've stuck to our original motto of: Relationships Matter. Here's a brief history of our company.
Recognized as one of Canada's Best Workplaces
2005 ————–
> LRO Staffing is founded by Ron Palaczka with a mission to become the premium provider for talent in Ottawa, the surrounding area and other markets across Canada.
> Cas Sotelo, a recognized leader in the staffing industry who embodies our core values, is the first player to join the company, and creates Government Staffing & Consulting – Contract Division.
> Legal is added as a specialized staffing division.
> Accounting, Finance & Payroll is added as a specialized staffing division.
2007 ————–
> Our firm was awarded several Federal, Provincial Standing Offers and Supply Arrangements.  These include but are not limited to: Temporary Help Services (THS), In-Service Support – Supply Arrangement (ISS-SA), ProServices, TBIPS, TSPS, PASS.
2011 ————–
> LRO Staffing expands into Calgary in the Finance, Accounting and Payroll business line as part of the overall growth strategy.
2016 ————–
> LRO Staffing acquires a building in the Glebe, one of Ottawa's most popular neighbourhoods as part of the growth strategy for the company as it continues to expand into new markets and business lines.
2017 ————–
> The team moves into the new office at 601 Bank Street in the Glebe to accommodate the continued growth.
> Engineering and Manufacturing added as specialized staffing divisions.
> LRO Staffing becomes a Founding Partner of Kids Up Front Ottawa.  Kids Up Front Ottawa is a registered charity whose program helps deserving children and families in the National Capital Region. They collect donated event tickets and redistribute them to provide opportunities to children and youth who otherwise wouldn't have the chance to attend.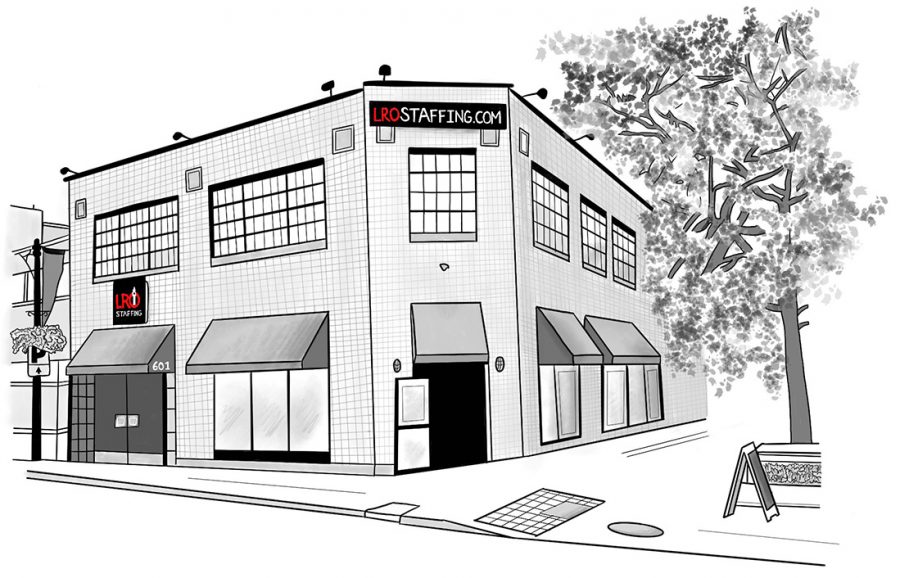 2018 ————–
> New LROStaffing.com website is launched with a modern look, feel and increased functionality to serve both our candidates and clients.
2019 ————–
> Parker Huggett joined forces with LRO Staffing's Construction, Development & Property team. As like-minded recruitment consultants with a relationship and value-driven approach, the merger has strengthened our service offering to employers and job seekers alike across Canada.
> LRO Solutions is launched to provide digital marketing services to our anchor clients. Through compelling brand building, strategic content development, data-driven campaigns, and tailored websites, we help our clients achieve their marketing and business goals.
2021 ————–
>Our Senior Account Executive, Sakura Gomi, won Ottawa's Recruiter of the Year by Faces Magazine.
2022 ————–
>LRO Staffing won Ottawa's Best Recruiting Company and our CEO, Ron Palaczka, won Ottawa's CEO of the Year by Faces Magazine.
2023 ————–
>LRO Staffing won Best Place to Work (Over 25 People) at the Ottawa Awards by Faces Magazine.
>A Diversity, Equity, and Inclusion (DEI) Committee was established internally to ensure that LRO Staffing continues to foster a culture where all are fairly treated and included.
Ready to take your career to the next level?