Canada is a delightful country, and aside from having a year-round tropical vacation province, we have pretty much everything else you could ever want. From sea to sea, we have the islands, the industry, the rocks and trees, the prairies, the Arctic, the mountains, some more islands, and all of it breathtaking in its own right. Not to mention incredible people that will make you feel right at home, no matter where you end up on that continuum.
So, how do you go about choosing the best place to live and work in all of that wonder? We'll come right out and admit that it can seem pretty daunting.
There is not one place in this country that we wouldn't want to visit and spend a little time, but when it comes to a place to put down roots, to raise a family, to own a home, and build a career, we have to say that "best" place is Ottawa.
Of course, this selection is going to be controversial to some folks, so we're going to give you 15 reasons (of the probably hundreds) why we think working and living in Ottawa is better than anywhere else in Canada.
1. You Can Afford to Live Here
Every day we watch as real estate prices across the country continue to edge most people out of the market. Toronto and Vancouver have both become so drastically unaffordable that it's causing a considerable upswing in the number of adult children deciding to just live at home with mom and dad. By contrast, Ottawa is still a market where middle-income families can buy a house and reasonably expect to pay it off in their lifetime. While some reports have recently suggested a slight climb in the Ottawa market, the approximate average cost for a home in Ottawa is still under $450,000. Compare that to Toronto's $750,000 or Vancouver's in excess of $1million.
Where this gets even more interesting is when you compare the Median household income. Ottawa's $102,020 to Toronto's $75,270, or to Vancouver's $76,040. Just imagine how much sooner you will own that home outright and how much lower your overall dollars spent on interest payments could be in Ottawa!
2. There is so Much To Do Here
Ottawa has regularly been referred to as a sleepy government town, and while that might have once been true, today that couldn't be further from the reality. It may not have the same density in the urban core as Toronto but this fact actually plays to Ottawa's advantage, nicely blending city amenities with ample nature throughout. The ByWard Market boasts over 120 restaurants and cafes with a central farmers market open year round. And then there's Little Italy and Chinatown each adding considerably more to the mix. There are theatres and nighttime hotspots, but by day you also have access to over 850 parks, 430 kilometres of cross-country ski trails, and 800 kilometres of bike trails. It's almost like if you mixed a smaller version of Toronto with Vancouver, gave people more overall income and charged them a third of the price for their house. Can you imagine how much fun that could be?
3. Career Opportunities
Ottawa is fast becoming known as Canada's tech hub, but more than that this city is experiencing a knowledge-based industry explosion. More than 1,700 companies operating in the Life Sciences, Digital Media, Communications Technology, Software, Clean Tech, and Aerospace & Defence sectors are providing good paying jobs with room for advancement and pathways to entrepreneurship. The ICT workforce in the capital region is now in access of 77,000 people. In fact, Ottawa has more tech companies than Vancouver, Montreal, or Calgary. And, maybe more surprisingly, five times more than Waterloo.
4. The Government
The fantastic thing about Ottawa being a government town is the security that affords. With 17% of the population involved with the Federal Government, there is always a reliable economic base that can be counted on to spend their disposable dollars in the local economy. And, while no place is recession proof, having a guaranteed employment sector ensures cultural activities will continue to receive support, restaurants will always have diners, and the bottom won't fall out of the housing market the way it has in other cities when their major industry has a slump.
5. The World at Your Doorstep
The government is always more than just the government. It's also the entire world beyond that Canada engages with. More than 180 countries have an embassy somewhere in Ottawa, meaning all the Ottawa knowledge-based companies have access to representatives from around the world as they plan to take their technologies far and wide. Not to mention the cultural diversity that surrounds having so many folks from all over the globe in one spot, the festivals, the learning exchange, and the incredible food fusions that are inspired right here at home.
6. Where Historical Partnerships Intersect
In the early days of what was then called The Canadas, an often difficult compromise was being negotiated between the English and the French; Upper and Lower Canada. Ottawa was the place where they connected and as such became the capital of a newly united nation and is still a place that bears the benefits of combining cultures. Not only is education readily available in both English and French, but people working in Ottawa can also choose to live on either the Ontario or Quebec side of the river. Gatineau, Quebec is directly across the bridge from Ottawa and provides an excellent option for families looking for even greater affordability. While lacking some of the urban benefits of living in Ottawa, the average home price in Gatineau is around the $300,000 mark and quite literally suburb distance from Ottawa proper. The personal income taxes are a little higher living on the Quebec side, but the lower cost of living and access to Quebec's subsidized childcare services will offset that for many families.
7. Incredible Museums
There is the Museum of Nature, the Canadian Museum of War, the Canadian Science and Technology Museum, the Canadian Aviation and Space Museum, the cold war preserved Diefenbunker, and this is just the beginning of the list. There is also the Canadian Museum of History just across the river in Gatineau. All this to say, the Capital Region is full of museums and whether you're a student on a field trip or an adult with a love of learning, there is so much to see in Ottawa. You can check out even more Museums here.
8. The Longest Skating Rink in the World
Sometimes referred to as the Rideau Canal, the 202 kilometres of this waterway freeze solid enough to provide you with days of long-distance skating. A registered UNESCO World Heritage Site, in the winter the ice comes alive with revellers and ice sculptures. The National Capital Commision clears and maintains a length of 7.8 kilometres, the equivalent surface area of 90 Olympic ice hockey rinks.
Of course, in the warmer months, you can rent a pedal boat, kayak, or canoe to make your way along the canal and even stop to grab a bite at one of the local restaurants right on the water's edge.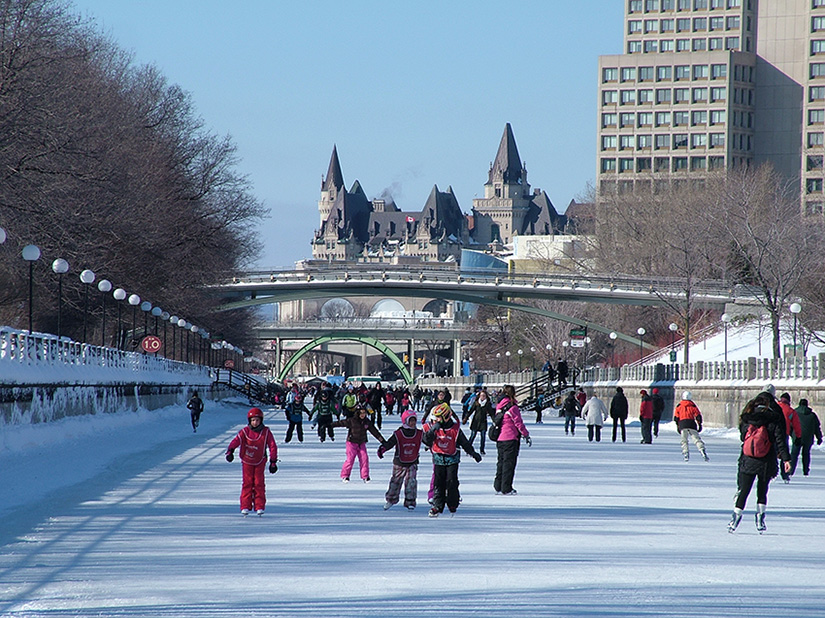 9. Rush Hour is Still a Thing, but a Much Smaller Thing
Given that Ottawa's population is just over 1.3 million and the population density is 335 people per square kilometre we're going to have some delays as folks get themselves to and from the office. However, that said the Ottawa commute is nothing compared to Toronto or Vancouver. When the back and forth adds three or four more hours away from home, it's really gone too far! The only real bottleneck is the Prince of Wales Drive connection to Barrhaven. The two-lane highway is the only way south to Barrhaven, one of Ottawa's larger suburbs.
10. Ottawa is a Safe City
Despite the growing population, Ottawa has continually ranked among the safest cities in Canada, with a crime rate of around 40 percent below the Canadian average. A recent comparison study found Ottawa in third place, not far behind Quebec City and Waterloo.
11. As Ottawa Grows, So Too Does the Transit
Like all cities, Ottawa has had its share of challenges as it expands. And despite some struggles, the new Confederation Line of the O-train network (a light-rail system) is set to open in 2019 connecting 13 stations along a 12.5-kilometre route through the heart of the city. OC Transpo (Ottawa-Carleton Transportation Commission) carries approximately 97.1 million annual riders, about 340,000 daily trips, on an integrated hub-and-spoke transit system.
12. Local Suds
Few things are as strong a sign of a robust economy as local breweries, and the Ottawa area has a bunch of them. When you have a strong entrepreneurial spirit, a good employment base, and just enough population density you will, more often than not, end up with a series of great microbreweries (and some not so micro). It's a sign of a city that has arrived, a place that cares about craft, and a town that knows how to celebrate. In Ottawa, we have the Broadhead Brewing Company, Kichesippi Beer Co., Clocktower Brewpub, Beyond The Pale Brewing Company, Ashton Brewing Company, and Cassel Brewing all offering tasting tours with snacks.
13. The Central Experimental Farm
New York has Central Park, Vancouver has Stanley Park, Ottawa has the CEF. Albeit it's not as sexy a name, but the Central Experimental Farm began in 1886 as a place to research up and coming agricultural methods. As the city expanded, the CEF found itself surrounded by and sharing its 35 hectares of rolling property with the people of Ottawa. To this day it's still is an agricultural facility, working farm, and research centre of Agriculture and Agri-Food Canada. However, most people in Ottawa know it for the more than 2,000 varieties of trees and the northeast corner of the Arboretum where you can wander amongst the magnolias, rhododendrons, and wisteria. It's the perfect place to stop and take a breath.
14. We Do Sports Well
Steady government employment, a booming tech sector, and affordable real estate are incredible, but we all know people need something more to come together around. For many folks, that's a great local sports team. In Ottawa, we have a few. It also makes for the perfect alternative to the business lunch. The Ottawa Senators always put on a good show and have drawn considerable loyal converts from around the country, but we'll understand if you don't want to give up your team. Though, we may tease you about it. The Redblacks have revived the CFL here, and the Fury FC have brought exciting soccer matchups to the capital. We even have a great baseball team who play in a proper ballpark, much more akin to the pastoral origins of the game. This is a serious sports town.
15. The People
The people in Ottawa are simply some of the finest you'll find anywhere, and we want you to be one of us! About 50% of folks here speak English, 32% speak French, and then there's a mix of Chinese, Arabic, Italian, Spanish, Portuguese, and more. There are so many cultures from so many places, and every one of them is proud to call Ottawa home and help make this city great. We bundle up and skate the canal together with hot chocolate in the winter. We take in the tulip festival, the blues festival, or one of the other 35 significant festivals we host each year. We cheer our teams to the Grey Cup, the Stanley Cup, or most any cup. And we like to think we are the most welcoming place in the world!
—
If this list isn't enough to convince you, consider that as one of Ottawa's leading staffing firms, we're here to lend a hand in not only finding you that dream position you've been after, but also get you comfortably situated in this beautiful city. That includes:
Helping you find a place to live (we're very well connected in the local housing scene and real-estate agents).
We can help broker meetings and conversation with people already working with the organization you've chosen to make your next career move with.
We know that making a physical move to a new city is a huge deal. That's why we always prioritize our relationships with our candidates and ensure a constant line of open communication to ensure that your needs are being met. Maintaining a positive and meaningful relationship with you to ensure a successful move is at the core of what we do for our candidates.
See a job you like and are interested in making the move to the place we call home? Register with us today or get in touch with one of our recruiters.
All of this, plus the mountain of other things happening in this fantastic little-big city are why we feel totally confident saying Ottawa is the best place in Canada to work and live. Of course, we think it could be even better with you here.