To a remarkable degree, it all comes down to one question. All that time spent on your CV. All the interviews and follow-ups. Everything you do to stand out from the crowd eventually boils down to this one question, and we're here to help you effectively answer it.
Why should we hire you?
It's the most pointed, open-ended, staring down the barrel question and employers love seeing how you're going to respond to it. Are you going to face it head-on? Or try to dodge, dance, and squirm your way around it?
Just in case you weren't sure, facing this one head-on is the only way to get to the other side of the interview still in consideration. Any seasoned interviewer, and let's be honest even a junior HR person, is going to see when you're trying to snow them on the answer.
That's why you can't just use a generic response. They already know you're qualified, smart, and that you really want the job. However, so do the people you're competing against for this position. Those excellent bullets on your CV that had so much to do with getting you in the room are probably not so different than all the other candidates they are considering.
So just how are you going to separate yourself from the competition? This question should not be seen as a gigantic blockade, set up merely to trip you up, but instead should be embraced as an opportunity for your time to shine and show them you're not just a flash on the resume. It's your time to stand out.
Before we get to a selection of sample answers for you to consider, let's start out with some fundamental strategies for answering just why they should hire you.
Confident in Appearance
When you stare down this question designed to shake your rehearsed responses, it's really essential that you don't let it unnerve you, as hard as that may seem. The way you look while answering this one is almost as important as what you say. You know the question is coming, and even if by some chance it doesn't, you want to be so prepared for it that when it, or some version of it, does happen, you barely notice it hitting your mental kevlar before replying in a cool, calm and collected manner. It may sound ridiculous, but many sports superstars have a simple ritual they do as they get ready to perform. Michael Jordan wore his lucky UNC college shorts under his NBA uniform for every game of his storied career. The magic doesn't come from the great beyond, but rather the little signal to the mind and body that it's time to perform. Do you have a particular watch that needs to be on your wrist? Do you touch the door frame as you walk into the interview room? Have you got an 'interview' tie? Find something that cues your mind that it's time to go. It won't be real magic, but it may provide just the anchor you need when the tough question comes.
Confident in Details
You and everyone else they're interviewing hope it should be apparent that they should just hire you because you're the right fit for the position. But in actual fact, you and all the other candidates are likely on the list because something on all of your resumes said that it could possibly be any one of you. This is your shot to take the details of your professional history and paint them a brilliantly clear picture of how they fit with their needs as an organization.
You will want to be prepared to give practical examples based on some of the details you've gleaned from the job posting, your online research, and anything you can find out through your networks. How can the things you've accomplished relate directly to their needs? If you can show them you grasp their problems and are the key to a solution, you are going to stand out from everyone else no matter how similar your past experience.
This is also an excellent opportunity to reflect on your Unique Selling Proposition. What personal traits really make you unique. Are you a CrossFit champion? Have you explored the workings of your inner self in silent meditation? Did you spend time exploring your roots in the old country? If you can tie your personal stories of self-actualization into how you operate as a professional, you have given them a more genuine sense of who they are actually considering.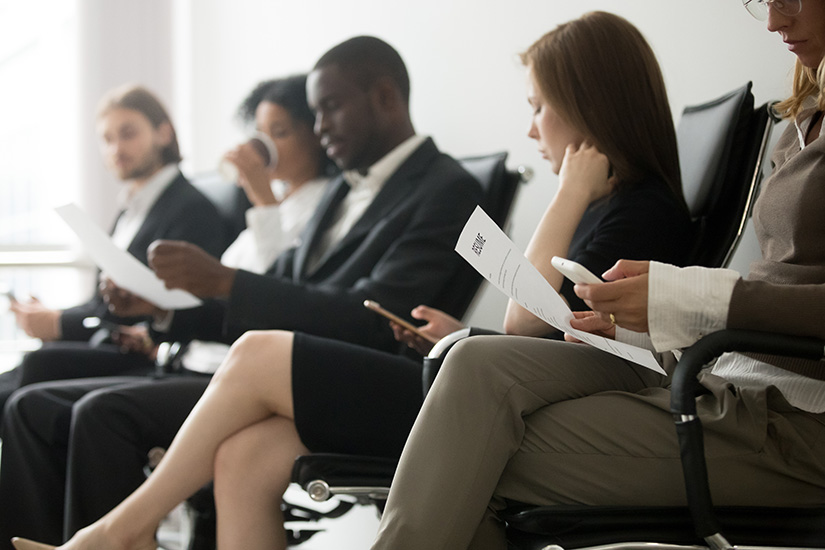 Confident in Words
While we would never suggest you embellish any part of your interview, it is your most significant opportunity to show a potential employer the absolute best of who you are. Which is sometimes easier said than done when you're sitting on the hot seat. What this means is that you are going to need to practice. We don't merely mean memorization or the ability to regurgitate a pre-scripted answer. When an actor steps on stage to deliver their lines, it's not enough that they know the words. They need to have rehearsed and made the words their own. They need to be the character. In your interview, the role you're playing is that best version of you.
And to get there, you need to decide on the overarching theme of what you want to say. After that, you can begin to ascribe words to it. Having the theme first means that even if the words change when you're answering the question you know all the points you need to hit, and where you need to end up. Find someone you trust to run through your responses with you. The more you deliver the answer out loud, the more you feel it in your bones, the more natural, and confident you're going to sound.
Some Sample Answers
The Problem Solver
From our conversations, it sounds as if you're looking for someone to come in and hit the ground running. It also seems like you are experiencing some issues in [Use a piece of information from the posting or better yet from your conversations]. With my many years of experience working with [specific example from your work history], I have [select a positive outcome from your past]. My high energy and quick learning style enable me to get in and size up problems quickly. My colleagues would tell you I'm a team player who maintains a positive attitude and outlook. I have the ability to stay focused in stressful situations, and I can be counted on under pressure. I'm confident I would be a great addition to your team.
The Mid-Level Executive
I know I'm the right candidate for this job, as I not only have what you're looking for, and what it would take to thrive in this role, but I am also eager to help you with [choose two or three major components of the role], and know I could do so successfully. As you can see from my resume, I'm well qualified for the position and have several years of experience, but I really feel that doesn't tell the whole story of what I can bring to this organization.
In my last role, I was given the opportunity to advance my [select a specific area of growth] skills, even getting some experience with skills above and beyond what was required for my position. For instance, I was involved in a project during which I was tasked with solving [insert a specific problem], which I know is something you're facing as well. I was able to assist in solving the problem by [provide an anecdote]. As a result, I'm confident I can bring a level of ingenuity to the table that no other candidate has, and I hope you'll give me the opportunity to prove it.
The Junior
Based on what you've said and from the research I've done, this organization is looking for a [position title] who is capable in both [example 1] and [example 2] skills. I believe my experience aligns well with that. I am particularly skilled at [choose a high priority skill for the position]. For example, when I was [describe a recent case of a position you held that required you to grow in the role].
The Ambitious Team Member
I think that my experience with [give a specific example] and, in particular, my ability to [skill 1] and [skill 2], make me a good match for this position. In my most recent role, I was responsible for [site a major day-to-day project]. This required me to [choose two or three components]. I really loved this work. In my own time, I took on learning [a particular skill]. I then put it into practice [give an example relating to the new ability learned]. I would love to bring my skills and my overall passion for learning to this position.
The Experienced Leader
You have explained that you are looking for a [position title] who is able to effectively [a specific requirement, for example: manage people, code a database, close a sale, etc..] In my [Number of] years of experience as a [position], I have developed robust [site one of two skills you have developed]. I was [give an example of awards or commendations: salesman of the year or industry award]. If hired, I will bring my leadership abilities and strategies for achieving [give an example of success: high returns or ] to this position.
The Career Change-Up
As you can see by my resume, the majority of my employment history has been as [last position], a role which has given me a good understanding of how [provide a specific example] work.  I noticed in your posting that you were specifically looking for someone to [pull from the job posting]. As a [last position], I was responsible for not only [one or two examples] but was also responsible for [two or three great cases]. I developed a good understanding of [knowledge that applies specifically to this new position]. I am confident that my past experience will translate well into this role and I am eager to begin this new chapter in my career.
—
Of course, it's important to keep in mind that each of these should only get you started thinking about your response to the question of why they should hire you. The more time you spend working through your actual answer, both alone and with your trusted advisors, the more confident you are going to come across when it comes time to provide your answer and make your best pitch.
Always remember, throughout your career, there will likely be several opportunities for you to be on the interview hot seat. After each one, make sure you make a few notes about what you think worked and areas you felt fell a little short. This direct reflection will prove invaluable the next time you are preparing to tell a prospective employer why they should hire you.