There are many ways to search for a job in Ottawa, and yet it can sometimes feel like you're sending out stacks of resumes not knowing if they are even being seen, seemingly lost to the digital void. That said, it is a great time to be thinking about your career options in Canada's capital. The Federal Government remains a large and relatively stable employer, and the tech sector is expanding and attracting top talent from across the country, and south of the border. With the rise of technology companies, Ottawa has also become a destination for entrepreneurship on a scale we haven't experienced before. This city is buzzing with possibility and full of talent to develop successful ventures.
Creating a solid job search strategy is a fundamental first step when you decide it's time for a significant career move. Here is our guide to searching for a new position in the Ottawa job market.
Before You Even Start Looking
The first step is to have an excellent idea of what the goal of your job search is. There are a lot of professionals out there who would like to make a career change but don't know precisely what it is they would like to be doing. Before you start sending out resumes or combing through job listings, it's best to dedicate time to serious self-reflection. Determine what things you like about your current position and how you can move towards growing in those areas. It can sometimes seem like professionals are successfully progressing along a set career path, but what we've observed over the years is that those who spend a bit of time intentionally considering their next steps, ultimately end up more content in their occupations.
Identify what you don't want
Not a simple byproduct of knowing what you want to do,  there's more to understanding what you don't want. In today's age, companies are learning how to engage a wide range of divergent skill sets effectively and are tailoring positions and growth potential around competent employees instead of trying to fit them into a rigid job description. Understanding the skills you want to develop, but also knowing what areas leave you feeling unfulfilled, will help you and your employer design a job that will keep you growing with the company and provide maximum benefit back to the organization. Defining what areas you neither enjoy or excel at will also be vital as you start considering potential offers. When you're thinking long-term satisfaction, avoiding positions that have too much of what you don't enjoy in favour of opportunities that focus more on your preferred area. Be honest with your job satisfaction as it may even lead you to consider taking a slightly lower salary. Your profession will be at least one-third of your day, and with another third dedicated to sleep, half your waking hours are spent at your job. Knowing what sorts of opportunities are not for you is crucial before starting your job hunt.
To help avoid taking your career down a path that won't lead to long-term job satisfaction, connect with peers and mentors in your field and spend time reviewing the things that have kept you the most engaged over the years and what type of projects and tasks you find dissatisfying. This task can prove challenging. Consider this excellent tool to help: The Kolbe A Index. Not a personality or intelligence test, Kolbe measures your instinctual ways of being and can be very useful in highlighting how you naturally like to operate, how you can play to your strengths, and generally avoid or minimize the things that will leave you unfulfilled.
(RE)Developing your personal brand
Tightening up your overall presentation early on means you won't have to worry about it when the job search intensifies. A personal brand refresh can mean cleaning up your resume, so it's up to date and relevant to the market. It can also mean having a business card created to hand out at networking events and even making sure your wardrobe is ready for going on interviews. Further to this, a run-through of your social media accounts (more on this below), as well as any personal websites you may host ensures your presence online is appropriate and professional. In the early stages of the hiring process, especially when the competition is tight, hiring managers are looking for anything that sets you apart. Don't let a poor professional and online image take you out of contention.
We will cover more about LinkedIn below, but it's worth reinforcing here that your social media channels are all part of your brand. If you are worried that things won't always be up to professional standards, be sure to make your Facebook, Instagram, and Twitter account private. If you decide to leave these accounts open, at least be sure you have the timeline review settings activated on Facebook, thus allowing you to approve anything that friends might want to tag you in.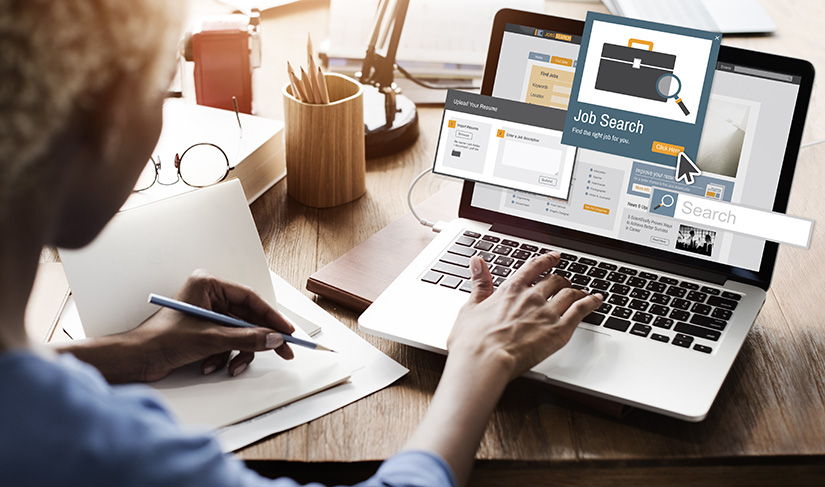 Refining Your Digital Search
Connecting through LinkedIn
When looking for a new position, it's imperative that you have a LinkedIn profile that's up-to-date. Many Employers, when doing their due diligence on a candidate, will cross reference the resume submitted with your employment history available through LinkedIn. It's fast become a necessary tool in the job search process.
LinkedIn has also evolved into a networking and job search platform, with many employers allowing you to apply by merely sharing your profile. The difficulty here is that it can be a challenge to stand out from the crowd using their built-in application function. As a result, rely more on LinkedIn to be a networking tool and lead generation, more so than actually applying for jobs.
Connect with other professionals in your field and share materials that you would find useful or interesting. Further, take the opportunity to comment on posts shared in your peer group. Showing commitment and interest to your profession on social media can be a low-risk way to make connections which can lead to real-world coffee meetings and future interview possibilities.
When it comes to lead generation, watch for positions that come up in your feed that match with where you might like to take your career. Then, look through your contact list to see if you have any direct connections linked to that particular company. If an association of yours can provide a recommendation for you or at least point you to the most direct route to submit your CV, you'll be well ahead of the crowd.
Navigating the world of digital job aggregators
Cruising through the numerous sites that list new jobs can be a bit overwhelming. However, digital job aggregator sites have developed and can provide great geographic-based listings or even niche options that can connect you with specific professions in Ottawa or anywhere else in the country. If you're beginning your search, try using a few of them to see which ones make you feel most comfortable. Many times companies will repeat their listings across multiple platforms, although sometimes they merely pick the one they know best.
When it comes to the general sites, some of the most popular are,
There is even JobBoom, which is Quebec's largest recruitment site offering services in both English and French. A particularly great option for searching in the Ottawa area.
Of course, one of the best places to find an active posting is through a local recruiter's website. Our job board is consistently full of great opportunities, many of which will be filled long before they ever make it to a general job aggregator.
For specific niches, you may find it's a little easier to operate on the sites specifically geared to your profession.
If you're looking, as a tech professional in Ottawa, Invest Ottawa has a great job listing board that they keep remarkably up to date.
If you're considering a role within the Government, no matter which branch, it's usually best to pay attention to their official job boards. Sometimes they will post positions with one of the more prominent aggregators, but it's generally as an afterthought, and often we've found them still popping up quite close to or after the closing date. You'll want to bookmark their pages and check weekly if that's a sector that interests you.
If you're having trouble securing a permanent role with the Federal Government, an experienced staffing agency like LRO Staffing is a great vehicle to help you secure a temporary contract or to get your feet wet in the government landscape.
Networking and Assistance
Digital job aggregator sites should be just one piece of the overall strategy in your job search project. Getting out and making connections should be another meaningful part of the plan. Attending industry functions, looking for local networking events, and interacting with other people in your field is not only good for breaking down barriers and making connections, but it also gets you away from your computer. Too much time spent surfing job boards and sending digital resumes can start to cause a decline in your overall sense of optimism.
If you're not sure where to start there are some great options in Ottawa. First and foremost the Ottawa Public Library hosts a series of resumes tune-up sessions and general workshops to help you reboot your career thinking. A perfect option if you're looking to make a more drastic career change or if it's just been a while since you've had to put together a resume or interview for a position.
However, if you're looking for something a little more industry-focused the Capital Region is well represented on Eventbrite, whether you're looking in the Tech sector, working with the Government or just more generally for career opportunities, there is going to be something for you.
Professional associations
One of the great things about developing your career in a city like Ottawa is that there are so many professional associations with offices located right here. They usually provide excellent opportunities for networking, industry-focused job boards, and can often connect you with accredited pathways for developing your professional skills. Some great examples are CIPS –  Canada's association of IT Professionals, AFP – the Association of Fundraising Professionals, and PAFSO – The Professional Association of Foreign Service Officers.
University groups
If you graduated from a Capital Region College or University, they are also a great place to get assistance with your job search. All of the educational institutions in the city run regular job fairs and provide alumni services for former students. So while this tends to be more geared to professionals earlier in their career, there is no reason more seasoned professionals couldn't take advantage of some of their networking opportunities. It's also a great idea to put in some time doing some mentoring for up and coming professionals. You never know where you will encounter these people in your career, and they may, one day, be in a position to return the gesture.
Carleton
University of Ottawa
Algonquin College
Talk to a local recruiter
Sitting down with a local professional recruiter can be a great idea, no matter what step of the job search you find yourself. At LRO Staffing, our highly experienced team leverage their unique talents to provide candidates with the guidance, support, and highest calibre of service they need to find the right position. Whether you're ready to make a move or merely want to get an idea of what options might be available for you, we can help. We've had the privilege of assisting thousands of professionals as they plot out their next steps and we know the importance of building a relationship with our candidates.