With increasing frequency, there has been considerable interest in Ottawa as a place to live and work in the last few years. We've discussed the reasons for this, but it bears repeating: the stability of having the Federal Government as a large employer, the reigniting of the Tech industry, and a general sense of entrepreneurship in this city, have made this an exciting place to develop a career and a balanced life.
The incredible truth about Ottawa is that with all it has going for it as a city, it's also one of the most affordable centers in the country. When analyzing salaries across dozens of industries and then comparing them to just how far your purchasing power will go, it's no wonder people born in the Capital Region are choosing to stay, while even more, from across the country and around the world are deciding to make it their new home.
To get a sense of how Ottawa compares to other major Canadian population centres, let's scrutinize the numbers and see if it truly is one of the most affordable cities in Canada. The first place to start is with the Median Household income. If the salaries aren't competitive, it's going to be hard to suggest that anyone should pick up their family and relocate to another city. When you parse the dollars, it has to make sound financial sense.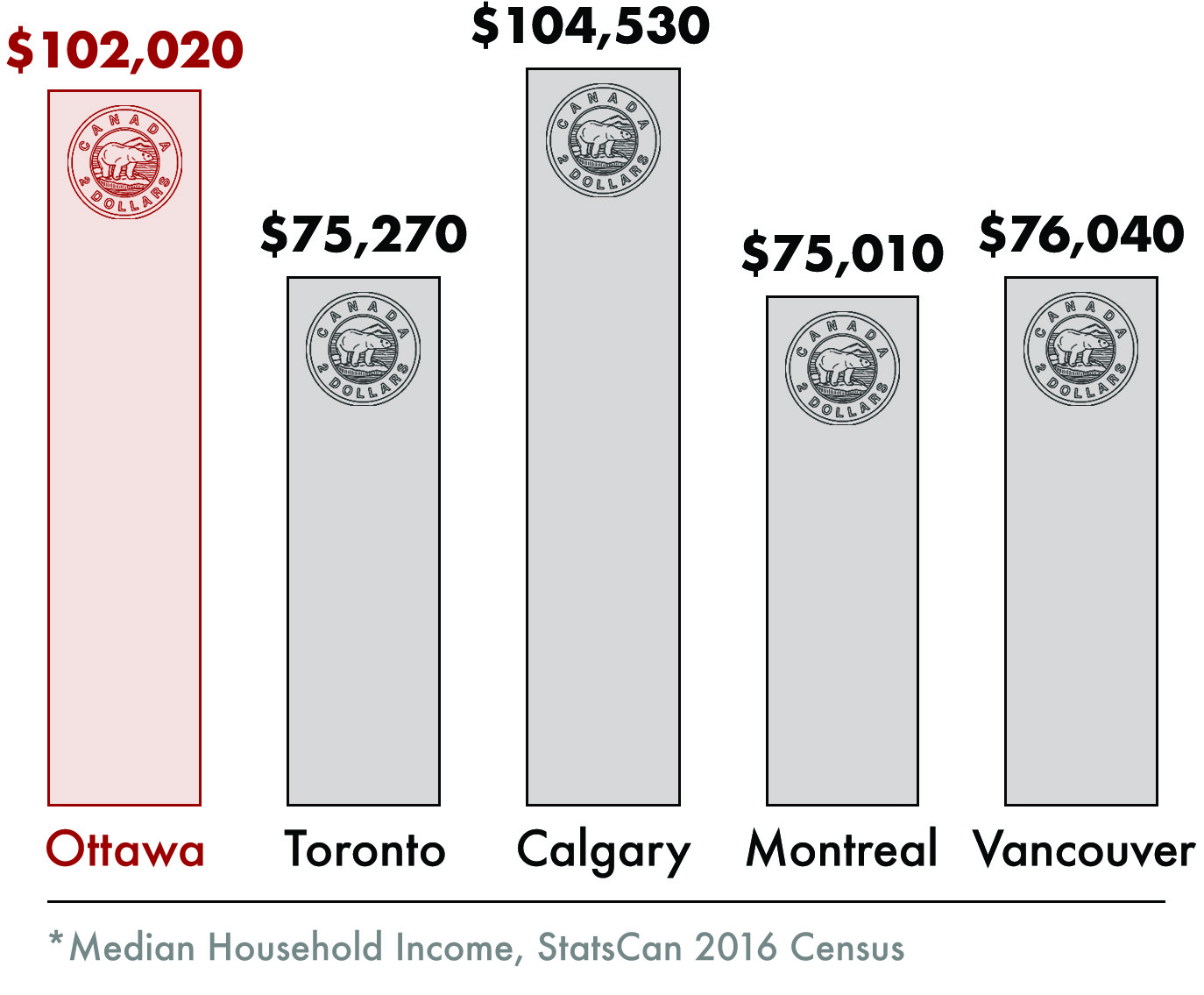 The most recent StatCan census, shows evidence of not just competitive salaries, but some of the best that Canada has to offer. The city sits above most other urban centres in Canada for Median household income. Well above both Toronto and Vancouver, and only slightly behind Calgary.
Of course, the other half of that equation is the cost of living. If it's prohibitively expensive to live here, a higher salary doesn't necessarily guarantee exceptional quality of life. In Ottawa, it would seem that the cost to income ratio is more than well balanced.  As far as overall cost-of-living is concerned, we see that Ottawa, despite the higher than average median household income, is much more affordable than other comparable Canadian cities.
Using the online aggregator Expatistan, an online tool that allows locals to input real-time cost data, and generate city-to-city comparisons, we found Ottawa to be 13% less expensive than Toronto, 12% cheaper than Vancouver, and about the same cost of living as Calgary. Montreal is the only other major city we studied where Ottawa was more expensive, by approximately 11%. However, this is an overall comparison, and as you dig into the details, you find some pretty striking differences across specific items.
Digging Into The Numbers
Starting with Food, Ottawa is pretty comparable to Toronto, Montreal, and Calgary. It's only Vancouver were you end up spending about 10% more on food overall, with everyday staples like bread being about 44% cheaper and eggs about 32% less expensive in Ottawa. When you're looking at places to raise a family, seemingly small differences like this can add up to considerable differences in quality of life and a family's budget not just over the year, but over decades.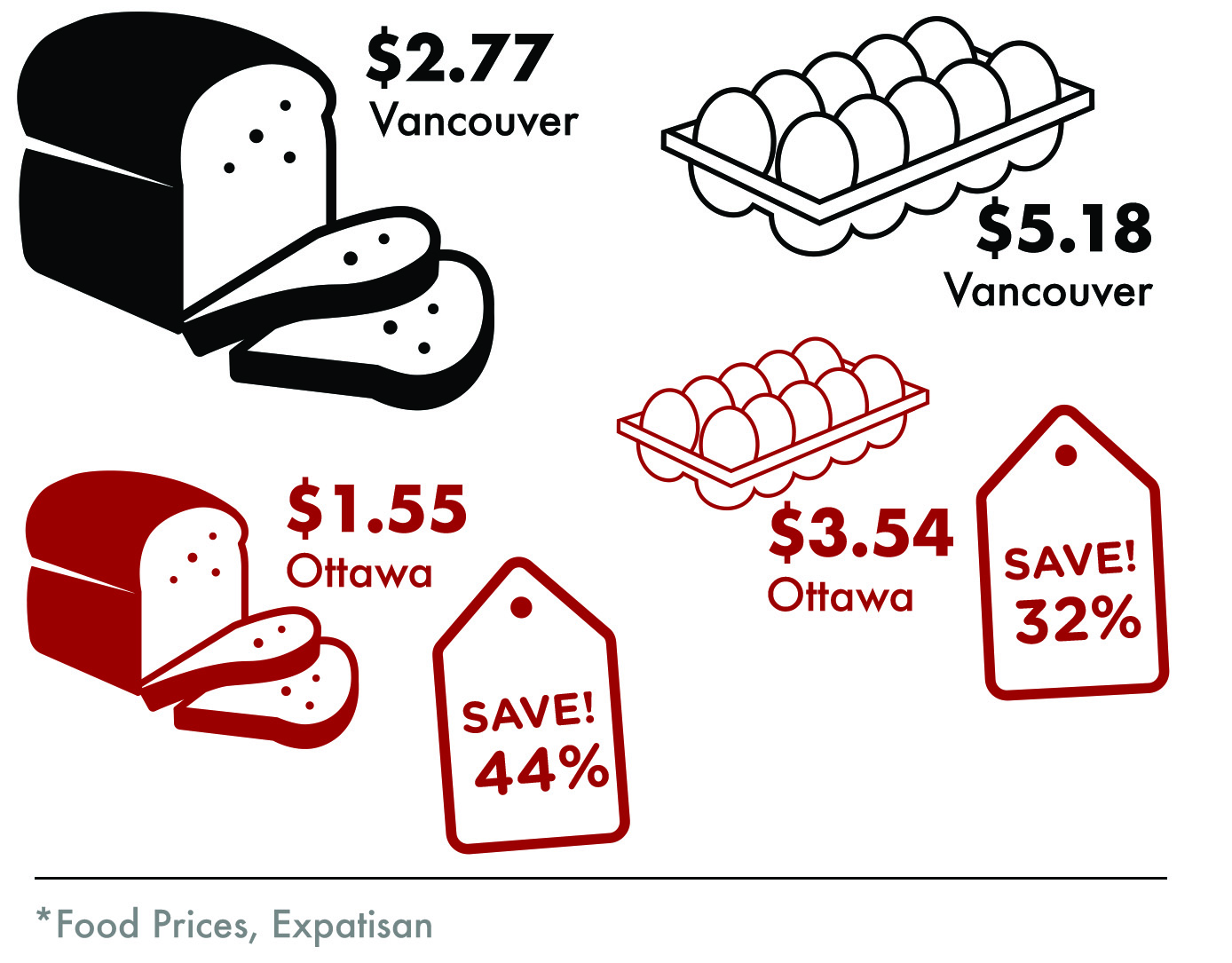 Clothing is an area where Ottawa is a good deal less expensive than all the others. It turns out your clothing costs in Ottawa are approximately 10% cheaper than Toronto, 11% cheaper than Montreal, 13% less expensive than Calgary, and a 20% bargain over the prices you'll find in Vancouver. When we expound a couple of examples, such as a pair of Levi's jeans or a summer dress from H&M, it's incredible just how much your location plays into what you'll pay for an item. At $79, Calgary has the priciest denim, and at $63 in Vancouver, that H&M dress is $17 more than what you would get the same item for in Ottawa.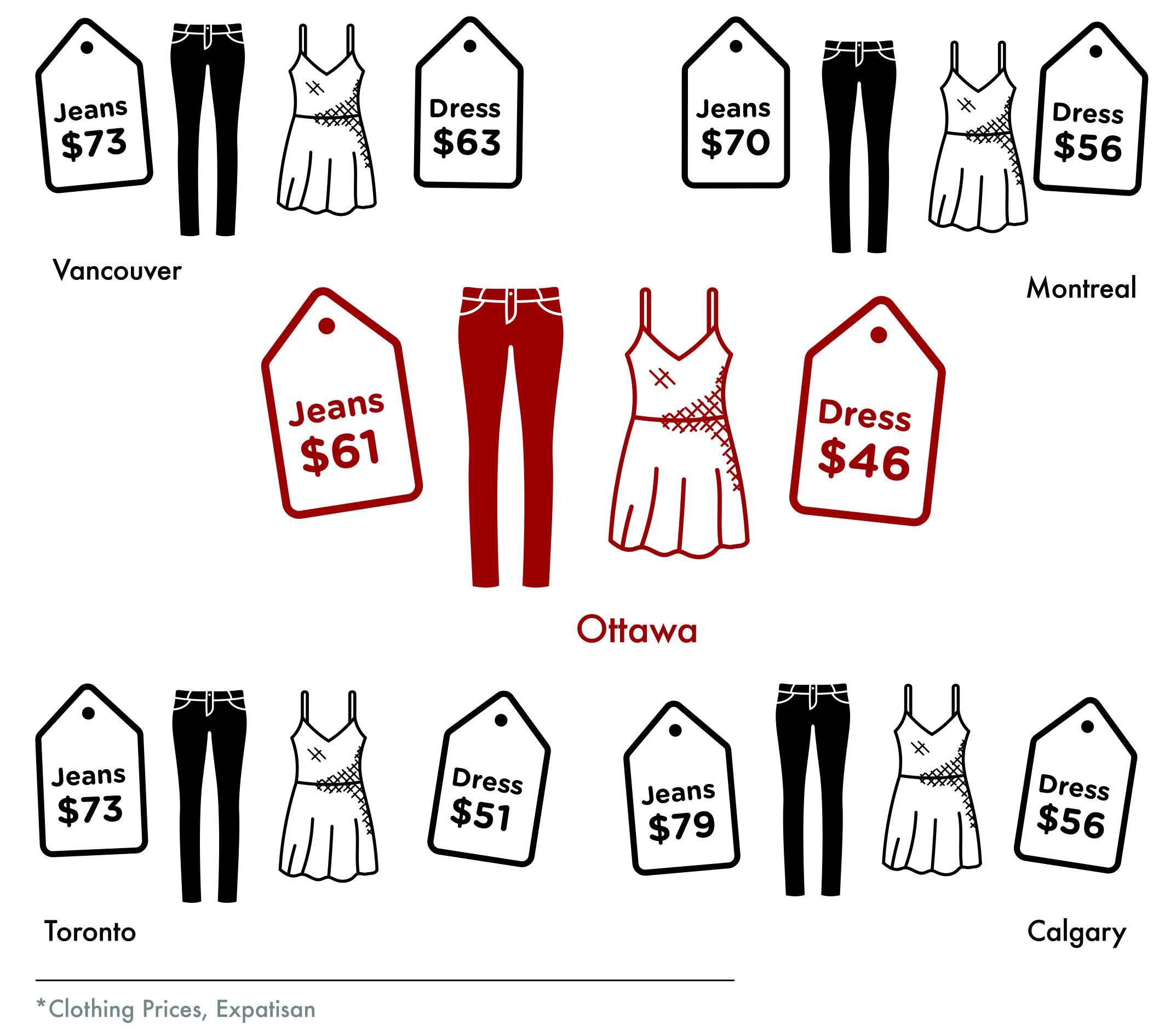 The one curious exception we found, was sneakers. For some reason, Ottawa is the most expensive city, of those we looked at, to buy a new pair of Nike or Adidas trainers. However, even with this anomaly, we're still a long way for tipping the affordability balance. This discrepancy may be the exception that proves the rule.
Housing
While the household items we buy every day are essential markers of a city's affordability, they are not usually as important as housing costs when deciding on a place to call home.
It's here where the affordability gap is the most palpable. Whether you're looking to buy a home or rent an apartment, you're going to be pleasantly surprised in Ottawa. A fact that is especially true when you compare the median income to the average home prices.
Beginning with buying a home, we looked at the average housing prices for March 2019 using data from Teranet-National Bank House Price Index, released in the Globe and Mail. (https://www.theglobeandmail.com/real-estate/article-canadas-house-price-data-centre/)
A noteworthy idea to keep in mind is that these numbers are the average and can represent a considerable swing on either side. However, they still paint a vivid picture of the housing markets in those cities.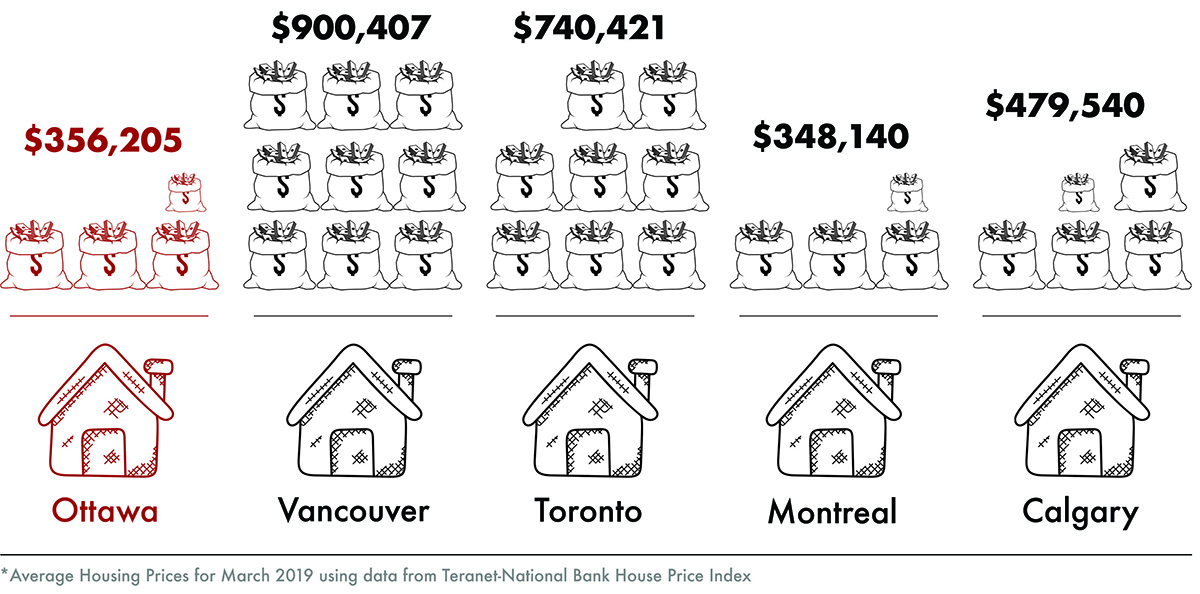 While Ottawa is not the lowest figure on the list with an average home price of $356,205 when compared to Montreal's $348,140 it's worth considering that the median income in Ottawa is still $27,000 higher than Quebec's largest city. The same is true for the median income in Vancouver and Toronto; only the average house price is 2.5 and two times higher respectively in those cities. Calgary comes a little closer with income-to-housing costs, but if you're looking for an active city centre that comes alive in the evenings and on the weekends, Ottawa may be more your vibe.
The scenario of renting in these same cities paints a very similar picture. The affordability rankings change only modestly as shown by the apartment-search website Pad Mapper's April 2019 Canadian Rent Report which found that as expected Toronto and Vancouver are the priciest places to rent an apartment. Toronto has now passed Vancouver for average rental cost, possibly owing to "Empty Homes" tax levied by the City government in Vancouver. As expected, we see Ottawa and Montreal not too far apart, but in this case, Calgary ends up being the most affordable. However, it's worth keeping in mind that these prices reflect rents in the city centre. With Calgary having a more spread out population and less emphasis on city centre living this may account for the unusually low rental price.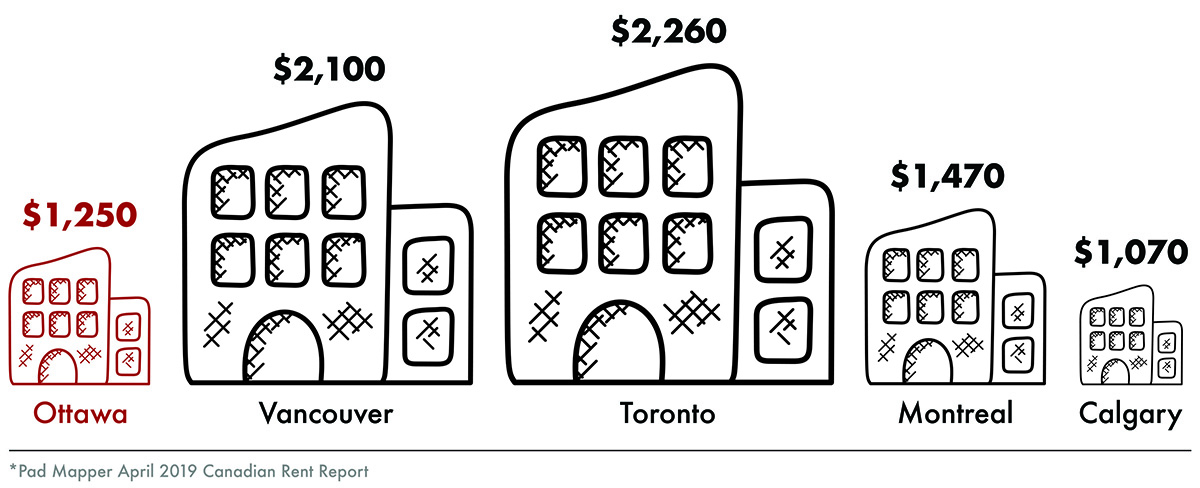 Lastly, on our affordability ranking, we're looking at fuel prices. Over the last number of years, we've seen the cost of gasoline soar, and this affects everything from public transportation, to commuter costs, to the expense of taking the family away on a road trip. Much as our society is making steps towards renewable options, including the Federal Government's recent announcement of a $5,000 electric car subsidy, the price of gas is at present, still playing a crucial part of any affordability ranking.
When it comes to fuel pricing, it seems that Ottawa is doing well in comparison to the other major Canadian cities. Slightly below both Toronto and Calgary, Ottawa comes in a full .28¢ cheaper per litre than Vancouver.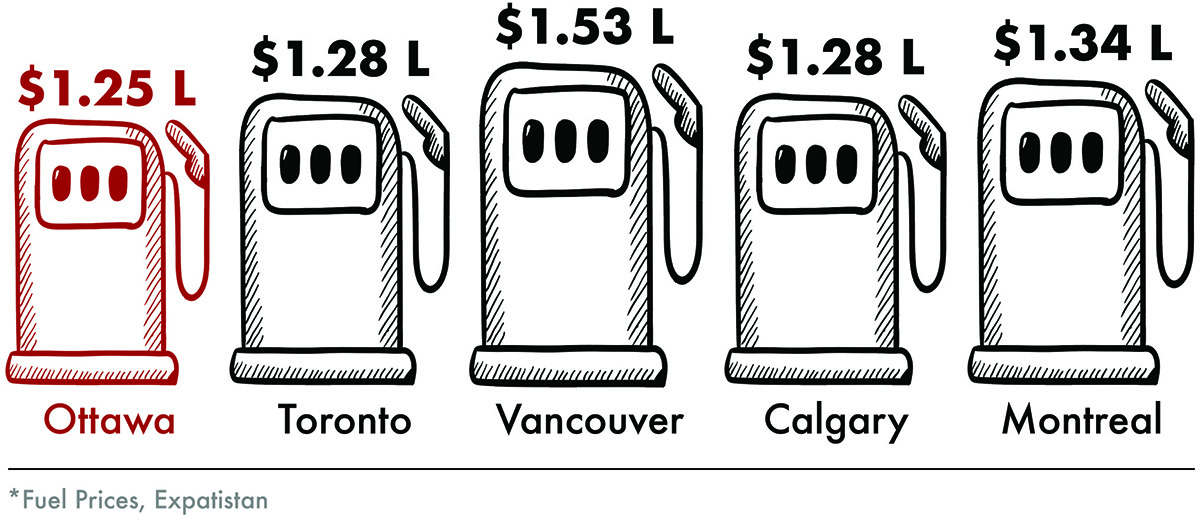 When we look through the cost of living across Canada and consider the economic realities, it's no surprise that people are looking at this city as a good option. With salaries outpacing the other major cities, home prices remaining affordable, and everyday expenses remaining lower than average it's plain to see why Ottawa is on top of the affordability ranking. Moreover, with festivals, cultural events, and a rapidly expanding dining options, you won't feel you sacrificed your lifestyle for affordability.