Diversity in the workplace, as a genuine objective of corporations, has taken root in many places around the world, including Canada. The challenge is that employers are struggling to ensure that their efforts are part of a substantial systemic change and not merely a tokenistic one-off that has good PR value.
The most recent 2016 StatsCan data highlights just how diverse our country has become and for that reason alone, no businesses can afford to ignore thinking about how they are going to make their workplace more attractive to everyone.
In the Ottawa-Gatineau census metropolitan area, the StatsCan data shows that we can no longer think of diversity as something that is coming, it has already arrived. The 2016 numbers show that one in five people here have identified as a visible minority or almost 281,000 of the 1.3 million people who call the Capital Region home. This number represents an increase of 45,000 people over the 2011 census numbers and no doubt is a number that continues to climb. This 2017 Ottawa Citizen piece delves even deeper into the StatsCan data and the changes in demographics happening here at home.
However, while ensuring a diverse workforce in our city is good for social cohesion, the statistics continually reinforce that it's also the best thing an organization can do if they want to stay innovative. The 2015 McKinsey & Company research project: Diversity Matters, uncovered some meaningful findings relating to various forms of diversity and overall corporate success.
Companies in the top quartile for racial and ethnic diversity are 35 percent more likely to have financial returns above their respective national industry medians.
Companies in the top quartile for gender diversity are 15 percent more likely to have financial returns above their respective domestic industry medians.
Companies in the bottom quartile both for gender and for ethnicity and race are statistically less likely to achieve above-average financial returns than the average companies in the data set (that is, bottom-quartile companies are lagging rather than merely not leading).
Racial and ethnic diversity has a stronger impact on financial performance in the United States than gender diversity, perhaps because earlier efforts to increase women's representation in the top levels of business have already yielded positive results.
In the United Kingdom, greater gender diversity on the senior-executive team corresponded to the highest performance uplift in the data set: for every 10 percent increase in gender diversity, earnings before interest and taxes (EBIT) rose by 3.5 percent.
While some industries perform better on gender diversity and other industries on ethnic and racial diversity, no industry or company is in the top quartile on both dimensions.
The unequal performance of companies in the same industry and the same country implies that diversity is a competitive differentiator shifting market share toward more diverse companies.
What's even more interesting is that McKinsey followed up their original research two years later and the statistics continued to bear out, and in fact, the connection only seemed to increase.  The initial diversity data found that companies in the top quartile for gender diversity on their executive teams were 15 percent more likely to experience above-average profitability than companies in the fourth quartile. The expanded 2017 data saw this number rise to 21 percent. With regards to ethnic and cultural diversity, the first McKinsey study found a 35 percent likelihood of "outperformance," a number that stayed consistent in the 2017 findings.
Having now considered the substantial economic and social benefits of deepening the diversity composition of your company, this is how we suggest you can successfully hire a diverse workforce.
Start with Rethinking your Job Descriptions
It's astonishing to think that the way you structure a job description can drastically influence just how diverse a response you get. According to research conducted by the augmented writing company, Textio.com, if you have too many bullet lists, fewer women will apply. However, if you have too few bulleted lists, a lower number of men will apply. The best way to get the highest number of gender-balanced applicants, Textio's research suggests, is keeping your use of bulleted lists to ⅓ of the job post. A percentage they say is trending down.
When it comes to diversity in all forms, the same Textio research found a strong correlation between how you present your "Equal Employment Opportunity" statement in the listing and how quickly you receive applications. A well crafted EEQ statement will actually bring in more qualified applicants and fill a position an average of 10 times faster. To read more about further turning your "EEO statement" into an inclusion promise be sure to read this excellent piece Textio released for Pride month.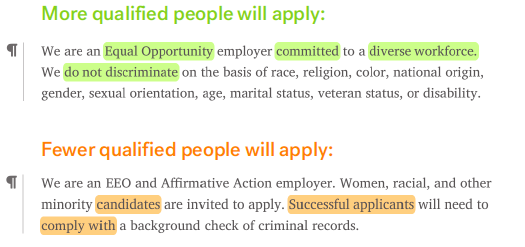 Use a Blind Screening Process
We've known for a long time that human beings can have and express certain values on an intellectual level, and yet when pushed to make a decision will often follow unconscious, evolutionarily derived, biases that select for people most like themselves. An interesting 2017 study, undertaken by Ryerson University and the University of Toronto, found that large employers with over 500 employees tend to discriminate against applicants with Asian (Chinese, Indian or Pakistani) sounding names in the decision to call for an interview, about half as often as smaller employers. By using a blind screening process, you have the applicants names and any cultural identifiers removed from their resume before providing them to the hiring team. This process allows the organization to honestly say they are merit-based and make all hiring decisions based solely on a candidate's skills as related to the job for which they are applying.
Go Beyond the Resume when Hiring
Everyone knows that a small typo on your resume can be the reason it winds up in the trash. With large numbers of applications coming in from different sources, employers are looking for any way to cut the list down. However, if you're looking for the best candidate for a particular position using arbitrary methods can be considerably limiting; especially if you are looking to make your workforce more culturally diverse. One excellent method is to employ the Kolbe RightFit™ for Hiringmethod. The Kolbe A Index is a comprehensive tool for understanding your instinctual ways of operating; the RightFit™ component takes the hiring managers needs into account and can help narrow down the candidates who meet those requirements. With the Kolbe RightFit, the only thing an employer is considering is the candidate's aptitude for doing the job.
Develop new Pipelines for Distributing your Job Postings
The digital age has enabled several options for distributing job postings, but more often than not, given the demands of the day, many employers default to the distribution channels they already know. While the mainstream services are getting better at attracting a more comprehensive range of candidates, they still aren't able to make connections in many communities. There are, however, a few services who have moved into the diversity space and are providing real value to companies serious about diversifying their workplace.
The subscription service Equitek Employment Equity Solutions enables you to create a profile and distribute through their job board, but also disseminates your posting through a wide range of professional cultural associations. There are also organizations such as The Women's Business Network of Ottawa, the African Canadian Association of Ottawa, or NetIP the Network of Indian Professionals Canada among many others that provide direct access to a diverse network of members. Another great option is to post job opportunities in digital and print magazines relevant to wider communities. A couple of great options are Diversity Can Magazine and Canadian Immigrant Magazine.
Use a Diverse Group of Interviewers
One of the incredible things about the human brain is its ability to take large amounts of information and filter out everything but what's important. The trouble with this is that it too easily ignores anything unfamiliar.  Unless it makes a significant impact, new information will often fail to get our attention. We also have to beware of confirmation bias when it comes to reviewing applicants. This mental shortcut refers to our ability to continually look for ways to support our first impression of someone or some group so that we don't have to deal with the burden of assimilating new information. Over our evolutionary history, this ability has served us well in small tribal groups, but it can be problematic when trying to increase diversity in the workplace.
Having a diverse group of interviewers enables you to get a variety of perspectives and prevent one person's confirmation bias from arbitrarily ruling out potentially great candidates. For this approach to work, it's critical that each person on the panel has sufficient authority to weigh in and is made to feel their perspectives are valued.
Focus on Internal Culture
Companies that value diversity in their day-to-day operations are going to have an easier time continuing to recruit diverse candidates to their ranks. Not to mention that a survey carried out by Glassdoor, reported that 67 percent of job seekers said a diverse workforce is important when considering job offers and 57 percent of current employees think their companies should be more diverse. With this in mind, a great place to start is by providing staff with diversity and inclusion training. These seminars can go a long way to breaking down unconscious biases that all of us pick up as a by-product of our upbringing. More than that, by hosting diversity seminars, you signal to staff that diversity is something you take seriously.
Several organizations are offering comprehensive courses that can be presented at your office or next team-building retreat. The Canadian Centre for Diversity and Inclusion and the University of Ottawa both provide great seminars for staff.
Of course, promoting diversity in your corporate culture has yet another benefit, it generally makes staff feel more engaged and lowers your turnover rate. Employees who see that the company they work for celebrates diversity are much more keen to help in sharing job postings into their cultural communities. A Great Place to Work survey confirmed that leading diversity employers enjoyed substantially lower turnover than peers in many industries.
Work with LRO Staffing
Whether you are a company who values diversity in your workplace or a job seeker looking to work for an organization that appreciates your unique abilities, we can assist you. As a recruiting firm with a long history in the Ottawa area, we've worked with many of the Capital Region's most cutting-edge corporations. As a result, we've helped them develop recruitment strategies that foster innovation and encourage the vast array of skills and distinctions that each of their employees brings to the table.