Hiring tech talent can be a challenge. The internet is abuzz with all sorts of ways to go about finding the right person with the right skills to complete your team. However, no matter how much you learn there are always going to be a lot of subtleties to wrap your mind around and finer points to understand, concerning the realities of a limited size market like Ottawa.
The good news is that it's a great time to be hiring tech positions in the Capital Region. In some ways, this is the second coming of tech in Ottawa. Albeit this one is built on a lot more than the dot-com speculation of the late nineties. Legitimate technology companies are moving to the Ottawa area in record numbers to set up shop, develop new technologies, and take advantage of each other's infrastructure and the growing community. In short, tech is attracting more tech, and the government is doing everything it can to make it easy on these companies to excel.
Of course, this means tech talent has been actively looking at Ottawa as a possible city to relocate to now for a while. Consequently, universities have been attracting more students interested in developing their skills right here in Ottawa, so pupils now have ready access to these companies, both start-up and established, for mentorship and career prospect possibilities.
While we are predicting a continued tight labour market for tech in 2019, we believe that this is still the best time to be a tech company looking to hire at any time in the city's history.
All this said, Ottawa is still a mid-sized city on the rise and, finding the right people can still be a bit of a challenge. While it is true that in 2017 the career finder website Indeed indicated that international tech workers are clicking more readily on tech jobs in Canada, and especially Ottawa, we are still operating in a limited marketplace. As such, companies will need to employ well thought out strategies to compete for the human resources they require.
Active University Partnerships
Let's start with the low hanging fruit. Creating an active partnership with one or all of Ottawa's four post-secondary institutions is a great place to begin when you want to get your name in front of up-and-coming tech talent. While working their way through school, the prospect of finding an internship and ultimately a job weighs heavy on most student's minds. All the time and money they are investing need to be heading towards a career that will allow them to pay off those loans and go about starting a life. The real ability for students to land good jobs actually helps the institution attract more students for future years, and as such, they are usually quite keen and happy to work with companies able to help them deliver.
An excellent first step for many companies is to run an internship program. At the end of most college programs, students are usually required to complete an internship for their final credits. Depending on the size of your company, taking on several students and giving them set rotations in different areas of your operation is a great way to provide them with exposure, experience, and potentially set yourself up with a few really great candidates to hire on full-time.
It should go without saying that any company looking to hire talent in the Ottawa area, should be participating in tech and career fairs at all four area schools. This gives you the ability to engage with those students who are about to graduate and start looking for jobs, but also keep on the radar of those just starting out their courses. Building your company reputation as the place students aspire to work, will pay dividends for years to come.
The Good Word of the Staff you Have
Nobody knows better what it's like to work at your company than the folks who already do. And I can promise you that each and every one of them have friends or colleagues working in the tech industry, not to mention they would love to help those same people land a new and better job. By putting your acquisition needs out to the people you already have, not only do you tap into their professional networks but, you help them gain status in their community as someone who can help others find work. This also has the side benefit of making them feel trusted and more connected to your company. It's one of the simplest methods for locating new and pre-vetted talent and will often give you access to folks who hadn't even thought of looking for a new gig.  In fact, with all the benefits that come with putting job prospects out to your team to share with their networks, it's really a shame that so many companies still like to keep their staffing cards so close to their chest. Transparency breeds trust, loyalty, and may just be the simplest way to find good talent to help your team meet its needs.
Of course, when asking your staff to help with the networking, it's essential that you honestly have a culture that makes professionals want to grow their career with you. Culture isn't about free food and games in the cafeteria, as great as those are. A culture that values employees is one where they feel their ideas matter. Where there is a stable path to career growth. And where their lives beyond the office are respected. If you have these things in place, your staff are going to be your best ambassadors for finding new recruits!
It's also worth suggesting that you encourage your team to keep connections with their university. Having them as members of Alumni Societies or going back to guest lecture at their alma mater is a great way to keep your company connected to up-and-coming tech talent.
Industry Events
Every industry functions almost like a little tribe. There are those in the know and everyone else. Politicians get together to discuss campaign strategy, media people have bars where they know other media people will be meeting for drinks, and advertising folks give each other awards for clever slogans scribbled on napkins. Tech workers are no different. If you can find a way to sponsor a genuine event that tech people like attending, not only will you be helping your brand among the people you want to recruit, but you will likely also be given a chance to say a little something about your company.  The other option is to start your own industry event. The only warning to starting your own gathering is to make sure you circulate your idea with your team. Ask for honest feedback and don't be sensitive if the team doesn't like your first idea. It's better to create an event that the target demographic wants to attend then protect your feelings at the office and end up with an empty room.
Some events coming up to attract tech talent in the Ottawa area:
IOG Policy Crunch – Ottawa as a Global Leader in Gov-Tech?
The International Conference
Creating your own international conference, ideally in partnership with some other companies is a great way to bring talent to your doorstep. Now, there is no pretending that this is a small undertaking, in fact, depending on how involved you want to be with the final event and curriculum, you may need to bring on additional event staff just to make this happen. However, if you truly own the conference, you are able to really shine in the eyes of tech talent, at home and abroad. The simpler option is to find an existing conference and add your name to the list of sponsors. Ideally, you will want to negotiate some space for presenting and networking to really get the value out of such a sponsorship.
A great example is SaaSNorth, Canada's first annual software as a service conference, right here in Ottawa, where founders, investors, executives and service providers come together, share ideas, and collaborate with one and other. All told more than 1,200 delegates connect with over 400 companies and 75 exhibitors. It's a great place to talk tech needs. The trouble is that your company can be too easily lost amongst the logo soup of sponsors.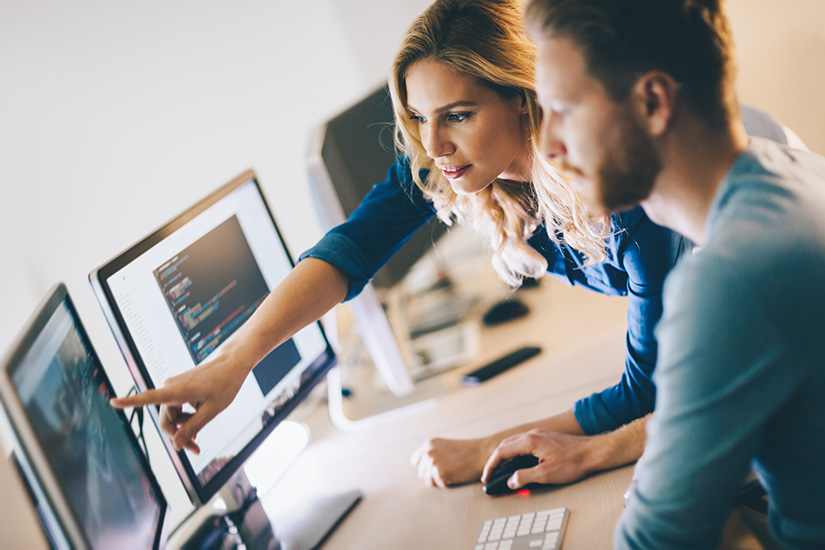 Stack Overflow
If you are looking for a tech professional, chances are they have a presence on Stack Overflow. Millions of members submit and answer programming questions, building their status as a go-to expert. It's a platform to learn and challenge peers, but more importantly, it's a community hangout. It's also not confined by a geographic region, meaning it gives you access to tech folks from all over and allows you post employment opportunities well beyond the Ottawa market. If you have the right culture, the right challenges, in a city that's becoming a North American tech hotspot, it stands to reason you can pull from a much wider range than the Capital Region.
Stack Overflow also benefits from not being primarily a job board. Most of the folks turning up are there because of their genuine interest in solving programming problems. This means it's chock-full of programming purists as opposed to just people thinking about a career change. Connecting on Stack Overflow is also a great strategy to pair with tapping into your existing staff networks. The tech talent you already have may very well be engaging on Stack Overflow and happy to connect a talented virtual peer with a great opportunity.
LinkedIn
This sounds like the easy answer, but the strategy has to be something a little more particular. You can simply post employment opportunities on LinkedIn, and you will get applications, but the better approach is to treat it more the way you would Stack Overflow. By using your existing team to publish articles in areas of interest you can start to create something of a community-following. Staff, especially senior staff, should be encouraged (maybe with a little help from the Comms team where required) to write about some of their tech challenges and successes as well as answering follow up questions in the comments. It's also great if you can have members of your team engage with experts beyond your company, truly making you into a company that cares about the industry and not just their own bottom line. Using your passion for technology to create content for the broader tech community on LinkedIn makes you into an authority and your business into a place that will regularly get well-qualified employment solicitations.
Social Media
The community strategy holds true also when you're dealing with more general social platforms like Twitter or Facebook. The difference is that here you can't just employ reasoned articles to establish yourself as a place that people want to work. However, adding video interviews with prominent team members, staff photos that demonstrate culture, and entertaining anecdotes that position you as a community insider to the mix play really well. The most important thing to remember when engaging in social media is that it's not a one-way broadcast. By spending the time to develop conversations and engage with the broader tech community, and not just celebrating your own success, you set yourself up as connected and yet humble; a place people aspire to work.
Working With a Recruiter Who Knows the Industry
Of course, we think this is a good idea, it's what we do. However, when you consider just how much time goes into searching and vetting potential hires and the amount of trouble bringing on the wrong person can cause, it seems like having a professional who knows the industry, understands the market, and the landscape (the geographic and the economic)  just makes good sense. Depending on the size of your company a recruiter can play slightly different roles. In a larger, more established, shop the recruiter can provide a stream of pre-screened candidates for the Human Resources team to evaluate and consider.
In a smaller, start-up type, operation the recruiter can function as a defacto HR department; identifying qualified candidates, conducting interviews and ultimately bringing a final one or two candidates before the management team. The final decision always rests with you but having professional support throughout the process can go along way to getting you the right talent and lightening the workload involved in making it happen.  If you're ready to engage with an agency to help you with your staffing needs, give us a shout today!
A Holistic Strategy
Make sure you have spent some time mapping out your strategy. It's too easy to think of recruiting as the domain of HR and to relegate it to the realm of office administration. In today's world and especially in a market like Ottawa, your recruitment strategy should be carefully tied to your overall brand strategy. Just like your brand, you will want to be continually working to make sure the industry understands just how great your organizational culture is, so when you go looking to add people to the team, there's already some eager folks looking at you.